Expand your agency's offerings with our expert .NET and Umbraco solutions
Are you a digital agency or marketing team looking to amplify your service offerings and increase your client base? Look no further! As a .NET specialist and Umbraco Gold Partner, we provide cutting-edge development and design solutions that will help you expand your agency's horizons. By collaborating with us, you can offer a comprehensive suite of services, including Umbraco and .NET, without needing an in-house team.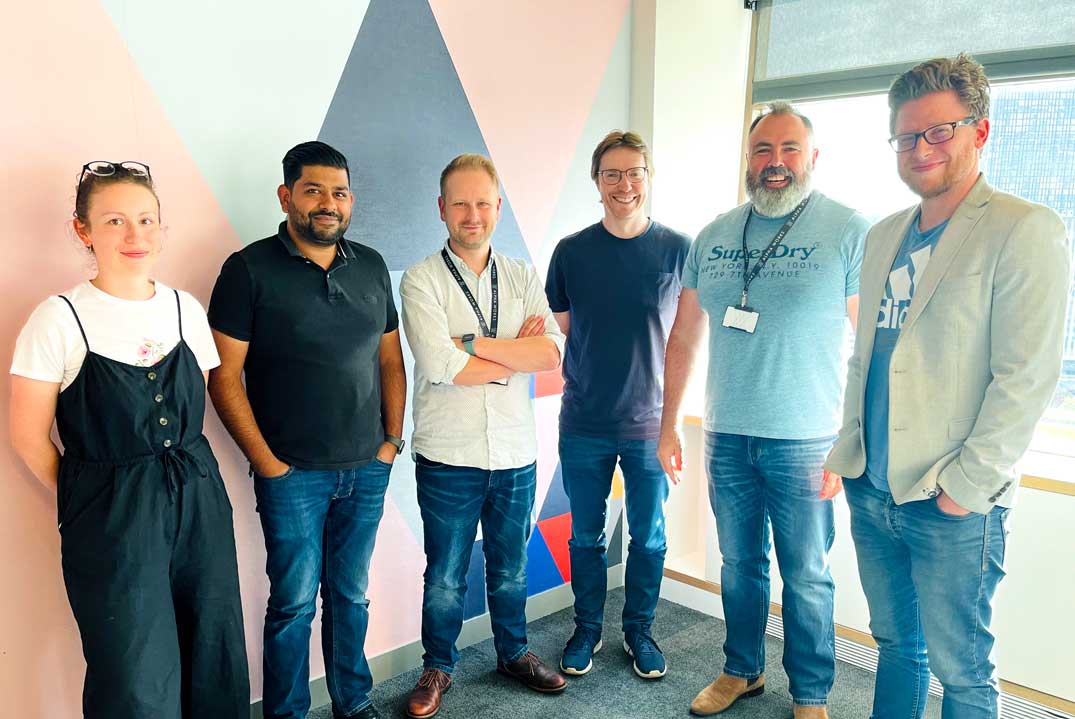 Discover seamless collaboration and robust capabilities
As a leading .NET specialist and Umbraco Gold Partner, we take pride in our expertise, commitment to excellence, and proven track record of successful projects. When you work with us, you're not just getting a service provider; you're gaining a trusted partner dedicated to helping your agency thrive.
Local, Accessible, and Reliable: With our roots in Birmingham, we're readily available to support your agency, offering seamless collaboration and personalised assistance. Our central location means you have direct access to a skilled team of experts right at your doorstep, ensuring timely and efficient service delivery.
Elevate Your Agency's Offerings: By partnering with us, your agency can offer a broader range of services to your clients, attracting new business and fostering long-term relationships.

Tailored for digital agency owners and marketing directors
Expand your agency's offerings and impress your clients with our proven product design and development expertise. As a reliable partner, we understand digital agency owners' and marketing directors' unique needs, ensuring exceptional results through seamless collaboration.
Our Comprehensive Partnership Approach: We work closely with your team from problem definition to market research, generating innovative solutions tailored to your clients' needs.
Design, Development, and Launch: Our designers and developers create user-centric products while maintaining open communication. We rigorously test, validate, and support smooth product launches backed by post-launch assistance.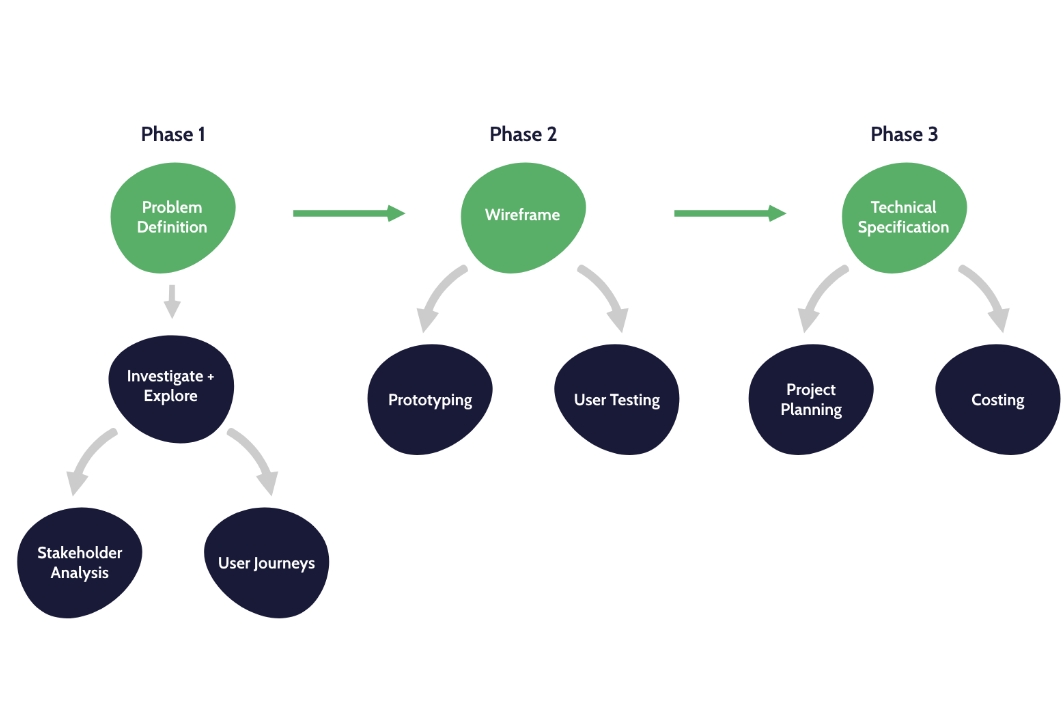 Appcentric Studio Services
Our expert solutions tailored for digital agencies - empowering growth, enhancing client satisfaction, and driving innovation in a competitive market
Unlock your clients' potential through a user-centred, exploratory approach.

Emphasise the importance of UX and discovery in your agency's offerings to effectively define your clients' requirements. Our user-centred, exploratory approach ensures the creation of tailored solutions that cater to your client's unique needs and lead to successful project outcomes.
By prioritising UX, we ensure your clients' digital solutions are tailored to their target audience, driving engagement and conversions.

A thorough discovery process helps us understand your client's goals, challenges, and user needs, laying the foundation for a well-defined project scope.
Leveraging insights from UX research and discovery, we make data-driven design decisions that align with your client's requirements and objectives.
Streamlined Development: A clear understanding of client needs through UX, and discovery reduces project risks, minimizes revisions, and ensures efficient resource allocation.
Deliver captivating, user-friendly experiences for your clients
Offer exceptional UI digital design services to your clients, crafting tailored solutions that cater to their unique needs and ensure engaging digital experiences.
We create custom interfaces reflecting your client's brand identity and promoting user engagement.
Focusing on client requirements and user needs, our designs resonate with target audiences and drive conversions.
Our UI design services complement our development expertise for cohesive client solutions.
Exceptional UI design contributes to positive user experiences, increased satisfaction, and project success.
Partner with us to deliver tailored UI digital design services that exceed client expectations and enhance project success. Contact us to learn how our expertise can benefit your agency and clients.
Discover how our UX/UI design expertise, rapid prototyping, and MVP development can maximise ROI for your clients and set your agency apart in a competitive market.

Our priority is delivering MVPs with essential features that differentiate your clients' businesses and enable rapid launch and testing.
We utilise Scrum and Kanban methodologies for efficient, responsive teams that adapt to evolving user needs and market trends.
Our UX/UI expertise accelerates high-quality prototypes, allowing clients to validate ideas with real-world feedback.
Our approach minimizes time-to-market, reduces development costs, and improves product quality, leading to substantial ROI and client satisfaction.
Partner with us to deliver impressive ROI and drive client satisfaction through innovative, market-ready solutions. Contact us to learn more about the benefits of our approach for your agency and clients.
Unlock your agency's potential with our expert Umbraco development services. Our skilled team crafts bespoke solutions that cater to your client's unique needs, elevating their digital experiences and enhancing your agency's reputation.

We provide user-friendly, secure, and high-performing digital platforms tailored to your client's requirements.
Our end-to-end services cover concept, design, development, testing, and deployment, offering a comprehensive solution.
Keep clients' Umbraco platforms competitive with our upgrade services, ensuring access to the latest features and security updates.
We integrate Umbraco solutions with third-party systems and customise existing installations to adapt to evolving needs.
Our transparent communication and alignment with your client's goals foster a strong, lasting partnership.
Contact us to learn more about our Umbraco expertise and its benefits for your agency and clients
We offer tailored Umbraco maintenance and upgrades to enhance client satisfaction.
Ensure lasting success for your clients with our tailored Umbraco maintenance, support, and version upgrade packages designed for agency owners and marketing directors. Offering proactive maintenance, dedicated support, and seamless version upgrades to set your agency apart and secure client satisfaction.

Safeguard your clients' investments with regular monitoring, updates, and security checks to keep their Umbraco solutions performing optimally.
Our expert Umbraco support team works closely with your agency, providing timely and effective solutions for your client's unique requirements.
Keep your clients' Umbraco implementations competitive with the latest features, enhancements, and security updates.
Microsoft Azure
We favor Microsoft Azure for our client and agency projects because it offers the scalability, flexibility, security, and advanced features required to deliver outstanding results. By leveraging the power of Azure, we empower your agency to create innovative, reliable solutions that exceed your client's expectations.
API and integration projects are crucial for creating interconnected digital solutions for your clients. Our partnership approach ensures seamless API integrations, customisations, and ongoing support to elevate user experience and streamline data exchange.


We collaborate with your agency to understand your client's needs, analyse their systems, and develop tailored API strategies. Our developers create secure, reliable, and scalable custom APIs compatible with various platforms.
Integration & Support: Our experts meticulously implement integration solutions and offer ongoing support, monitoring performance and providing updates to ensure optimal functionality and security.
Real-life success stories

We have worked with AppCentric for over 6 years where they have always provided an excellent service from initial concepts to designs, build, testing and delivery. Communication is always 1st class with no missed deadlines. It's great that they also share our vision of building a compelling and engaging app whilst ensuring the best customer experience. We are looking forward to continuing working with Adam and the team going forward.
-Danielle Beard
App product and experience executive